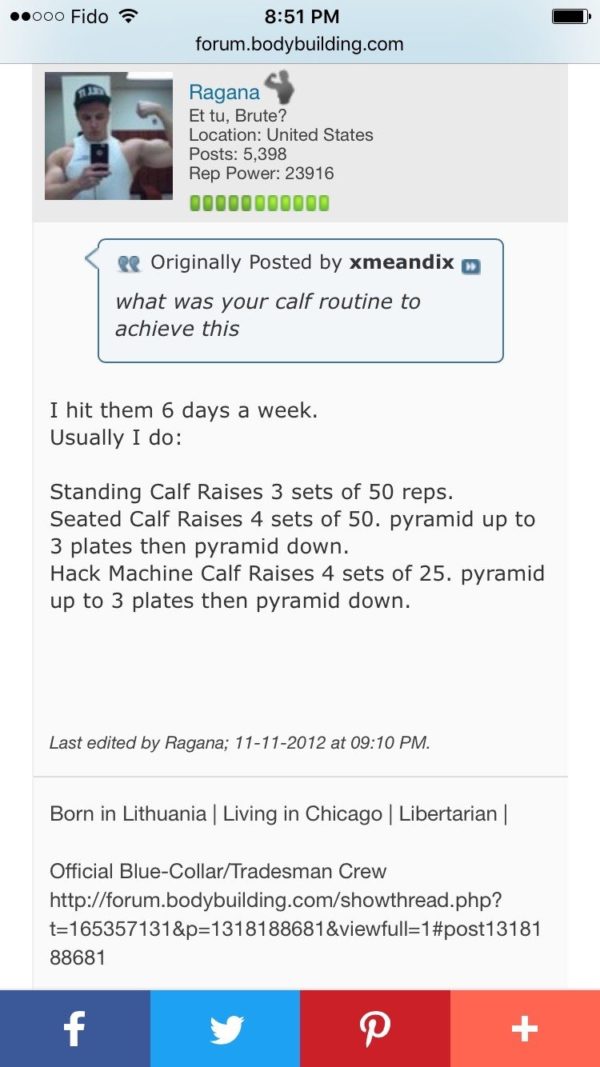 In order to keep track of my progress against Ryanb's first 100 days, I downloaded and installed this app called "Day+".  It reminded me where I was on my recovery journey.  You entered the date of your surgery and that's it.  It will show you the number of days post op on top of the wallpaper you selected.  Simple and neat.
How to Build Massive Calf
I had been doing my research on how to bulk up calf muscles.  It turned out calf muscles were notoriously hard to bulk up.   Looks like I had to do my own research and found a way to rebuild my calf since nobody seems to know how to do it.  I found a study stating the traditional 3 x 12 eccentric heel raises had no impact on athletes.  Instead, they need a minimum of 3 x 80 eccentric heel raises to see results.  I also found a few anecdotic confirmation on bodybuilding.com forum advocating high reps and high training frequency.

Strike a Pose Time
Families and friends were asking for photos of my recovery status.  I switched between crutches and iWalk frequently, usually using crutches when I was home and iWalk whenever I need to carry things, going up/down stairs and taking my puppy out.
 
Macronutrient
I usually try to stay away from starchy food and followed a Zone-ish diet.  Because of this injury, I was keeping a calories surplus the whole time and added starchy food back, partly for comfort food and partly to promote inflammatory response.

Temporary Handicap Permit
Make sure you ask your doctor for one of these permit.  It made a world of difference.  They won't just hand out the permit, you will need to fill in an application and submit to the corresponding government department for approval.

 Big toe swollen – hulls rigid/limitus
I noticed the base bone of my big toe was pretty swollen and I had limited range of motion (ROM) flexing it compared to my non-injured foot.  I also noticed the inside ankle was swollen up.
Out and About
Getting in and out of the car, taking my puppy to the vet had been proven quite challenging.  Thanks to the support of my wife, life have been reasonably pleasant.  Even though she could be cranky at time under pressure, I was truly grateful to have such a wonderful and caring partner.

This was as much tennis I could get for the time being.
I added 10 minutes stationary bike to my exercise on a daily basis.  The goal was to put a little resistant on the rest of my legs and facilitate blood circulation.