The Trips tab shows you the overview of the mileage logs.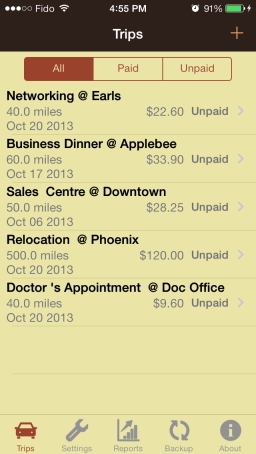 Tap on + button at the top right to create a new mileage log entry.
Tap on one of the bar buttons (All, Paid, Unpaid) to filter the mileage logs.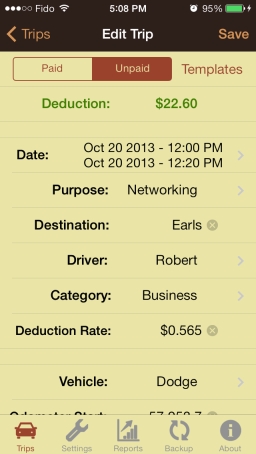 Tap on an entry to view/edit it.
Swipe on an entry to delete it.
The Settings tab shows you the unit in use and allows you to set up all the preferences in one place.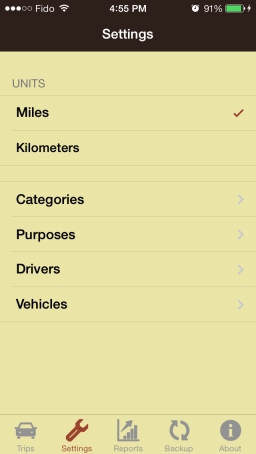 Categories refer to deduction categories set by the tax collection agency. (e.g. IRS). This is where you set up the deduction rate per mile/km.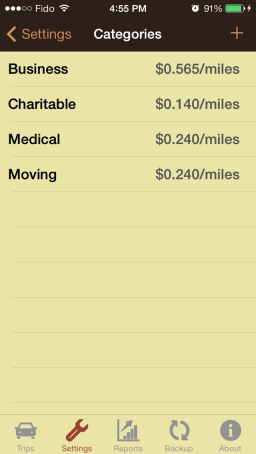 Purposes refer to the business purposes of the trip.
Drivers refer to the driver for the trip.
Vehicles refer to the vehicle for the trip.
The Reports tab shows you the deduction by categories in bar chart and pie chart formats. Swipe to switch chart types.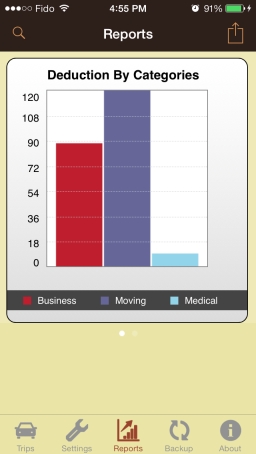 The Search button at the top left allows you to filter the mileage report.
The Action button at the top right allows you to email the mileage logs in MS Excel CSV format for backup.
The Backup tab lets you back up your data and email it to your mailbox.