It was the 2nd week of non weight bearing.  It means crutching around with the injured foot in the air in all circumstances.  Getting around still feel very dangerous.  I only use iWalk to get up and down stairs.   When I went downstair, I turned my back to the bottom of the stairs with my hands holding onto the rail.  It's kinda like lowering down like some kind of special forces. It certainly felt more secure this way than facing down.
I continued with my diet of one box of jello, high protein, vitamin c and BCAA.  The BCAA tasted so bad and I had to chuck up a whole bottle each day hopefully to reduce muscle atrophy as much as possible.
I have been using the vibrational massager over the cast, focusing on the healing achilles area.   I had been doing some light exercises while in cast like this.
Out of the cast! 2 Weeks Post Op – 11 July 2016
Big day, after a long wait, it's finally the day to get the cast off.  I know it's only 2 weeks, but it felt like an eternity.  I have nothing but good things to say about my surgeon, anesthesiologist and all the staffs in the Richmond Hospital.  They are all incredibly patient, reassuring and caring during the whole process.  My doctor is kind enough to allow me to record the cast removal process.  The snitches looked like it something straight out of a scary movie…  I am lucky to be operated on a skillful surgeon and the scar is relatively short compared to other that I have seen on the achilles blog.
I was surprised to see not much dead skin nor crazy werewolf like hair growth.  Despite my best effort, all muscles in the lower leg and foot atrophied.  Left calf was about 14 inches, while right calf is around 13 inches.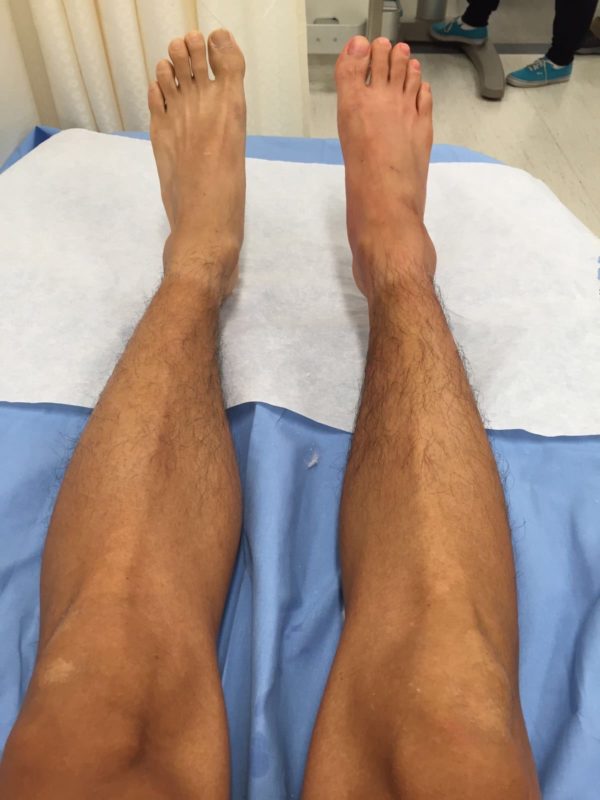 I brought my shiny new Vacoped boot along prepared to insist on getting into a boot if my doctor wants to put me back into another cast.  My doctor was amused to see my boot, he asked me how it works and I explained that it can adjust the plantar flexion angle in 5 degree increment.  And it's also about "hinge", which means it provides me the option to set the range of motion of my foot during the next 10 weeks or so.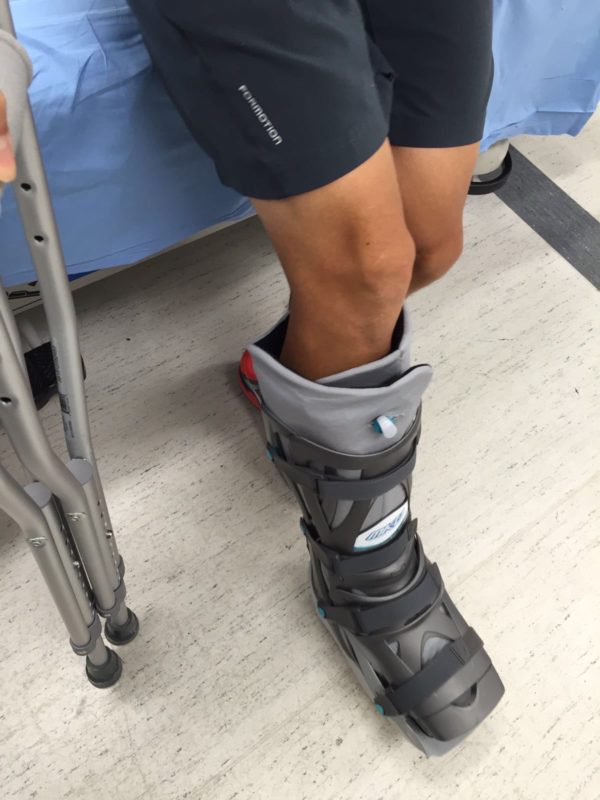 He said the incision wound was healing quite well.  The key was to keep the incision wound dry until it's completely healed.
I went home and take the boot off while seating on the sofa.  I did some toe circles in both directions and lite dorsiflexion stretch with tibia muscle just to get a feel.
My plan was to minimize atrophy as much as possible on the right legs before the internal suture dissolve around week 6.
Muscles atrophy didn't just limit to the calves, in fact, every muscles on the mid to low right side of the body would suffer various degree of atrophy.  I started doing isometric glute ham hold with left ankle over right knee for 90 sec x 3.  I can feel max contraction on right hamstring and glute.